Discover the Training Techniques
That Will Allow You to Blow Past
Plateaus & Sculpt the Fit,
Muscular Body of
Your Dreams!
One of Canada's Top Fitness Coaches Reveals 150 Training Techniques
You Can Use to Build Muscle & Lose Fat
– There is Something Here for Every Body Type!
Don't miss this exciting oppottunity to save and to improve your physique
***FOR EBOOK, ON YOUR PAYPAL RECEIPT/CONFIRMATION, CLICK ON THE BLUE LINK (KEVEN ARSENEAULT KINÉSIOLOGUE) TO ACCESS TO YOUR BOOK***
Hello, my name is Keven Arseneault and I've built a reputation in Canada for helping men and women build muscle and get fit.
I've trained CFL football players, NHL hockey players, Strongman and Fireman competitors and numerous others …
Now I want to share what I have learned with you.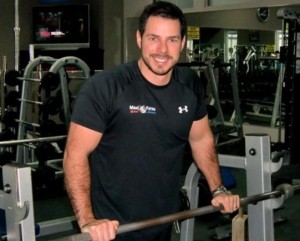 If You Are a Guy who Wants
CHISELED Abs … HUGE Guns …& a MASSIVE Chest
If You Are a Girl Who Wants
a WASHBOARD Stomach, TONED Thighs & a TIGHT Butt …
If You Are a Personal Trainer Who Wants
to Take Your Clients to the NEXT LEVEL of Success …
… Then I Urge YOU to Read on!
Here's the truth
whether you are an advanced bodybuilder struggling to take your fitness to the next level, a beginner looking for the best way to get started or a coach looking for proven techniques that will help your clients and team members achieve exciting new gains
– you've definitely come to the right place.
During my 12 years as a fitness coach I have seen it all and now I know what really works
and what is a waste of time and energy when it comes to working out.
The techniques I have developed helped me win my category in a recent tested bodybuilding competition
and I'm confident they will help you accomplish your goals as well.
So let me ask you:
Are you tired of busting your butt in the gym for little or no gains?
Are you fed up with doing the same routines over and over again with less and less visible results to show for all your hard work?
Are you looking for something fresh to break you out of the rut that you are in so you can achieve new gains?
Or maybe you are just looking for the best way to start building muscle and get fit for your body type and time schedule?
Whatever your fitness need, I have the techniques that will work for you. Unfortunately, as a native of Quebec City and a native French speaker, my training secrets have only been revealed in French …
until now that is!
Now, like this letter, my training secrets are also available in English.
Introducing the First & Only English Translation
of The Handbook of Training Techniques!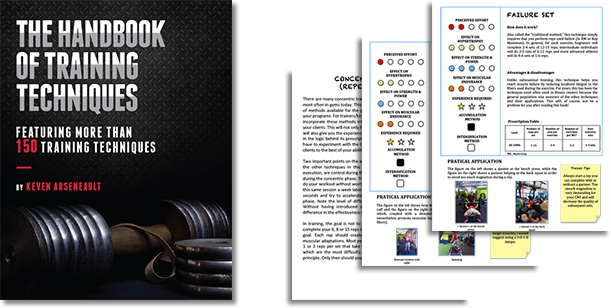 Imagine having all the training techniques you need to build mounds of rippling muscle, burn stubborn fat and sculpt a lean, attention-grabbing body in one convenient manual.
Well, that's exactly what you get with The Handbook of Training Techniques, which
features more than 150 highly effective exercises.
Inside this comprehensive guide, you'll find exercise techniques to fit your goals, your
schedule and your training style.
You'll find techniques to help you get over plateaus and achieve new gains and techniques
that will allow you to get started with a solid foundation that you can build upon for years
and years to come.
Here is just some of what you will learn:
How to build muscle in the shortest amount of time – find out what exercises really build muscle and which ones are a complete waste of time!
How to break-free from "traditional routines" – and achieve monster growth faster than you ever thought possible!
How to take your muscle-building gain and fat loss to the next level and beyond – if you really want to give your workouts a jumpstart, you gotta try this!
How to improve your weak areas – have a small chest or small arms … get the exercises that will turn your weaknesses into strengths in no time!
Exactly how many sets and reps you should do for each exercise for maximum muscle growth – doing too few or too many sets/reps can dramatically affect your muscle growth … learn what you should be doing for maximum growth in this manual!
How to protect yourself from injury – follow these tips to ensure you are able to train pain-free for years and years!
And much, much more!
Trainers – if you've been looking for fresh ideas you can use to spur clients on to greater success, this book is jam-packed with the training techniques you need to know.
Discover How to Develop the Rock Hard
Body You've Always Wanted!
It doesn't matter if you are a hard gainer or you gain muscle easily …

It doesn't matter if you are young or old …

It doesn't matter if you are male or female …

And it doesn't matter if you are fat or skinny or in-between …
The amazing secrets revealed in The Handbook of Training Techniques will finally allow
you to build the lean, mean, fit, muscular body that you've always dreamed of having
– without having to spend every hour at the gym!
At last, you can feelgood about yourself and your appearance …
you can begin feeling stronger and healthier and younger …
and you can send your self-confidence and body image soaring through the roof …
all without overloading your already busy schedule and without interrupting current work, family and personal commitments!
Are You Ready to Get Ripped Twice As Fast?
With the techniques revealed in The Handbook of Training Techniques you'll stop wasting
time on ineffective exercises and start focusing on the ones that deliver real results.
Anyone, no matter if they have bad genes or good ones,
can build massive muscle and melt away fat with the techniques revealed in this manual.
You'll find techniques for Hypertrophy, for power, for strength, for endurance, for cardio health, for fat loss and much more.
I understand that some readers will be just starting out with body building and may not know the proper form for the exercises I'm recommending. Even most advanced lifters are going to be surprised with a few of the cutting-edge choices I've made and will need some visual instruction!
Also, you would be amazed how many exercises even the most experienced bodybuilders perform incorrectly or inefficiently.
That's why all exercises in the manual come with photos and easy-to-understand written
instructions so you will know exactly how to maintain proper form and receive maximum
benefit from each. There's no guesswork involved!
Take a Look at What Others Are Saying About This Powerful Book
---
So What Are You Waiting For?
Get The Handbook of Training Techniques Now
to Find Out What You Really Need to Know to
Build Tons of Muscle, Lose Fat & Get a
Shredded Body!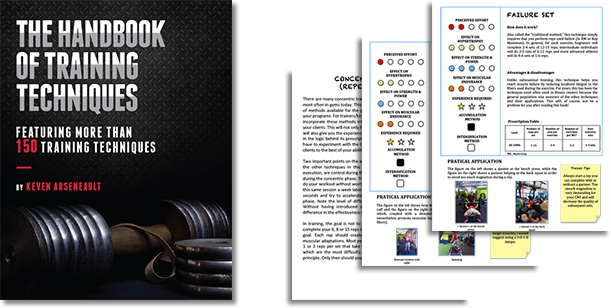 Plus, Order Now & You Can Save Money By Taking
Advantage of My Special Introductory Offer!
How much would you expect to pay for training advice and information
that quite literally could change your life by enabling you to
turn your muscle-building and fat loss dreams into reality?
Certainly, even as much as $100 would not be unreasonable to many …
but relax you won't have to pay near that much for The Handbook of Training Techniques.
Here's what I've done:
by making this book available as an instant download via the Internet
I was able to cut physical production and shipping costs so much
that I can now offer it for just $54.95 … $39.95 … $19.95.
Here's the Bottom Line on This Incredible Resource…
The Handbook of Training Techniques presents
easy-to-follow, easy-to-stick-to, truly effective exercise techniques
individuals and trainers can use to build muscle and lose fat.
This manual completely eliminates both:
The complexity of many other popular workouts that don't really work or that result in very minimal gains
&
The uncertainty that comes with trying to do things on your own or by following unreliable information
With this manual you'll learn how to:
Blast your muscle growth to the moon
Experience steady, permanent and phenomenal muscle gains that don't stop
Increase your rate of fat loss to the MAXIMUM possible without suffering muscle loss
Carve out an incredible, SEXY set of six pack abs while also gaining strength and muscle tone
Build a massive chest, huge arms, sturdy legs and a thick back
To begin, click on the button below:
I am so sure that you will love the Handbook of Training Techniques that I am offering an unconditional 100% money-back guarantee.
If you are not completely satisfied with your purchase, simply notify me within 60 days and I will refund your money, in full, with absolutely no questions asked! You truly have absolutely nothing to lose – EXCEPT FAT!
You'll have TWO FULL MONTHS to put this manual to the test — all the risk is on me. I don't think I could be any fairer than that! Either start building muscle and losing fat like crazy or get your money back!
So What ARE You Waiting For?
Order The Handbook of Training Techniques
Today & Pay Just $29.95!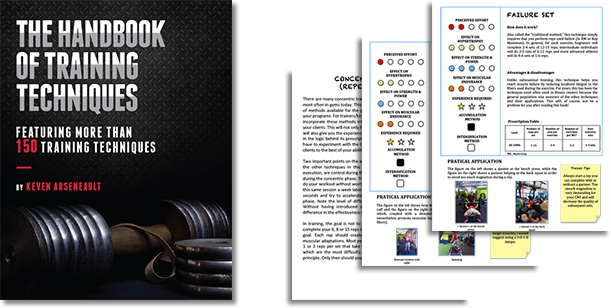 Remember, order The Handbook of Training Techniques now
and you will save $35 off the regular price … but don't delay!
This offer is only good for a limited time. We will soon be raising the price to $39.95 and then back to the full price of $54.95 a short time later.
To take advantage of this incredible offer while it lasts, click on the order button below.
Sincerely,

Keven Arseneault

P.S. This one-of-a-kind manual is filled with tips, tricks, techniques, secrets and shortcuts you can use to lose fat faster and pack on more ripped muscle!In other words, having this manual is like having a flashlight to explore a cave when everyone else has to stumble through in complete darkness.

Order now

. P.P.S Also remember, that you are making this purchase at absolutely no risk. So grab the special price while you can! If The Handbook of Training Techniques isn't everything you were expecting, simply notify me within 60 days and I will refund your money immediately.