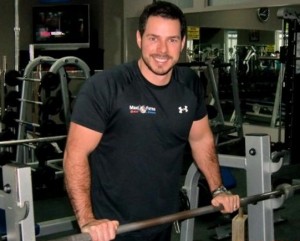 Personal trainer
Keven Arseneault is passionate about training and nutrition. Having discovered the world of fitness at a young age, he quickly knew he would turn his passion into his profession. He has worked in various gyms during the past 12 years.
He has worked at Hardgym Performance, a performance centre located in the heart of Quebec City, where he was responsible for the training and/or nutrition of top athletes such as football players in the CFL, hockey players in the NHL and Quebec Major Junior Hockey League (Quebec Remparts, Cape Breton Screaming Eagles), strong men on the world circuit (World Strongest Man), firefighters competing on the Firefit global circuit, and more.
Furthermore, he has acquired a speciality in the coaching of tactical and operational professions (firefighters, police officers, ambulance men, bodyguards, RCMP, military, etc.) over the years. In this sense, he is currently working very closely with the fire department of Quebec City to improve the health and prevention component by putting his fields of expertise to use. In 2014-2015, he owned the branch of the Maxi-Forme Fitness of Charny where he has been co-owner (www.maxiformefitness.com). Now, he has is own company "Keven Arseneault Kinesiologist" and his office is currently located in the Progym at Montreal (Hochelaga street)(http://www.progymsergemoreau.com).

On the athletic side, Keven has evolved as a sprinter on 100m and 200m throughout high school before entering the world of bodybuilding. He currently has five competitions as a bodybuilder under his belt (2004 to 2010) on the Quebec and Canadian scene and holds a first position in the light heavyweight category in a tested provincial championship. During those years, he was able to experiment with different nutritional protocols and training to better understand the differences between theory and practice.
Academic background
Keven has a bachelor of kinesiology at Laval University where he then pursued his studies for a bachelor in nutrition. In addition, he is currently completing a post-graduate diploma (DESS) in functional food and health to refine his knowledge of nutrition.
He also holds the CSCS American recognized certification from the National Strength and Conditioning Association (NSCA) and has his Canadian level 1 in weightlifting  from the National Coaching Certification Program (NCCP).
Concerning the transmission of his knowledge, he taught anatomy on cadaver for two years in his early years of kinesiology at Laval University and has been teaching assistant in the same program for the last five years. He has also participated in radio shows, television shows and online magazines about sports, always at the level of training and/or nutrition.
Entrepreneur
On the business side, Keven is co-founder and creator of Forging Heroes products, which are characterized as supplements intended mainly for the world of functional training. However, he has recently removed himself from the company in order to focus his efforts on developing other areas of his life. For information on these products, you may visit www.forgingheroes.com.